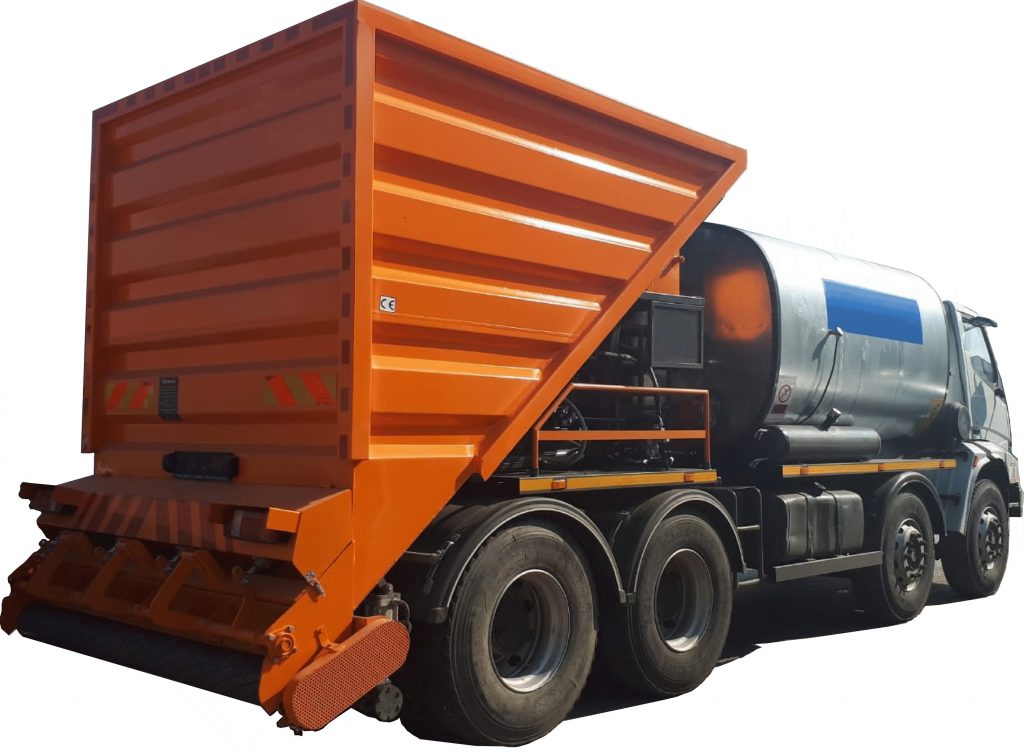 Combined Surface Treatment Vehicle
Combi Surface Coating Vehicle is a hybrid vehicle that spreads bituminous surface and aggregate at the same time. With this advantage, the paving operations performed with two vehicles are met with the Combi Surface Coating Vehicle. Coated bitumen and aggregate materials form a quality bond within 1 sec . As a better quality paving process is made, a safer and longer-lasting road construction is provided.
Using less manpower and tools increases environmental protection and energy efficiency.
During the paving, the driver makes all the necessary settings through the touch screen and keys placed in the driver's cabin. All spraying and cleaning operations are managed from the cab.
High standard insulated bitumen tank capacity ranges from 6,000 to 9,000 L. The burner system heats the entire bitumen line with a hot oil heating system. The aggregate bunker has been designed with a capacity of 10 m³ to make homogeneous laying.
Bitumen spray gun and rear view camera can be added upon request.
Combi Surface Coating Vehicle;
Maintenance and repair costs,
Easy usability of apparatus and equipment,
Energy efficiency and easy process tracking,
Stronger bonds and a homogeneous layout,
are offered for use with its advantages.